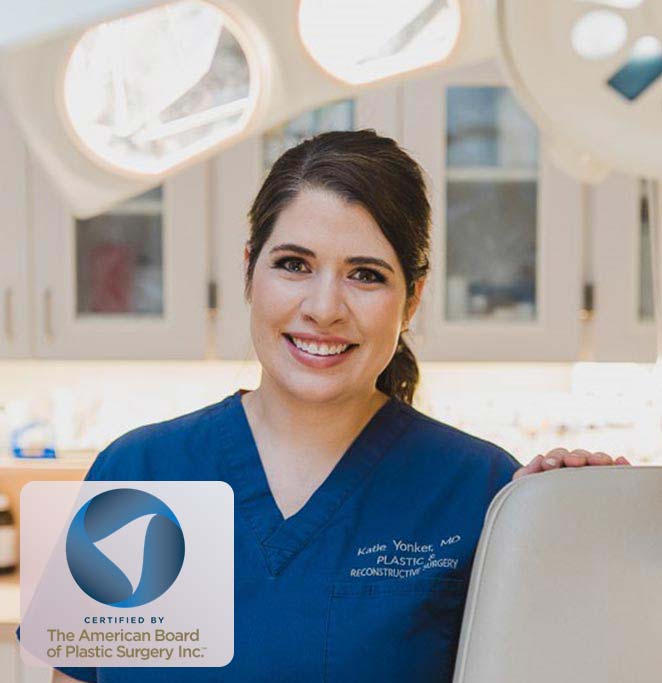 Katie Yonker, MD
Board-Certified Plastic and Reconstructive Surgeon in Salem, Oregon
Dr. Katie Yonker is a comprehensively trained board-certified plastic and reconstructive surgeon. She completed her undergraduate studies at Westmont College in Santa Barbara, California. She received numerous academic awards and graduated summa cum laude with bachelor's degrees in Biology, Chemistry, and Mathematics. She then attended the prestigious Loma Linda University School of Medicine where she received her Doctor of Medicine degree with honors. She went on to complete residency training at Oregon Health & Science University, specializing in Plastic & Reconstructive Surgery. Throughout residency, she wrote textbook chapters, submitted publications to medical journals, participated in extra educational training courses, and presented clinical research at local and national surgical meetings. She values furthering her own knowledge, educating others, and staying up to date on the newest treatment options for her patients.
Dr. Yonker grew up in Salem, Oregon and is excited to be the first female plastic surgeon in Salem. She performs a wide variety of general plastic surgical procedures, with a special interest in breast surgery, reconstructive surgery, and hand surgery. She provides high quality surgical care, tailored to the needs of each patient. She loves building relationships with her patients and values the ability to restore form and function to patient's lives through her practice. She offers personalized treatment recommendations based on the unique needs and desires of her patients along with her own experience and medical knowledge.
Outside of work, Dr. Yonker enjoys cooking, baking, quilting, and traveling. She loves spending time with her wonderful husband and two young sons.