QWO® Cellulite Treatment in Salem, OR
QWO® cellulite treatment is the only FDA-approved injectable treatment designed to address moderate to severe cellulite in the buttocks with a prescribed treatment that includes three strategically timed injections.
Dr. Katie Yonker and Oregon Plastic Surgeons offer QWO® cellulite treatment injections in Salem, Oregon, for adult women who struggle with cellulite on their buttocks.
If you are among the 90 percent of women (and some men) who have cellulite and think QWO® Cellulite Treatment might be the solution you're looking for, give Oregon Plastic Surgeons a call today at 503-561-7000 to learn more or to schedule a consultation.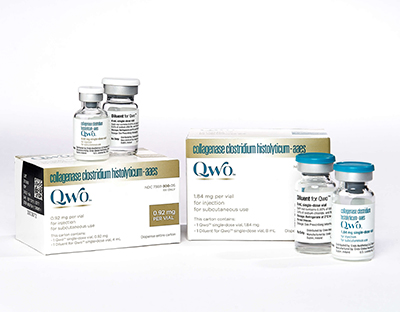 How Does QWO® Cellulite Treatment Work?
As we age, our skin begins to thin, the fibrous bands of connective tissue — named fibrous septae — pull the skin inward, creating the bumps and dimples in the fat cells that we call cellulite.
The active ingredient in QWO® cellulite treatment is collagenases, an enzyme believed to release and dissolve these fibrous bands. In clinical trials, this non-surgical treatment has proven effective after three injections.
Are You a Good Candidate for Cellulite Treatment With QWO®?
This product is currently only FDA-approved to treat cellulite on the buttocks but has been used off-label to treat some cases of cellulite on the thighs.
If you are an adult with moderate to severe cellulite on your buttocks or thighs, an in-depth consultation with Dr. Yonker at Oregon Plastic Surgeons can best determine your eligibility for cellulite reduction.
The following conditions may preclude you from receiving QWO® cellulite treatment:
Current or planned pregnancy
Currently breastfeeding
Bleeding problems
Taking anti-clotting medications
Have an allergy to collagenase
Candidates who schedule treatment are instructed to stop taking aspirin, ibuprofen, or any supplement that may thin the blood for two weeks before the procedure, as this can lead to more pronounced bruising.
What Should You Expect During and After Treatment With QWO® Cellulite Treatment?
The cellulite dimples are circled, and photographs are taken before the procedure.
The QWO® cellulite treatment solution is injected into the fat surrounding each circled cellulite dimple. There is often a limit of either 12 dimples in each buttock for a maximum of 24 dimples treated per treatment.
The entire procedure should only take about ten minutes, but you will need to remain lying face down for a few more minutes.
A complete QWO® cellulite treatment session usually involves three injections spaced 21 days apart.
Is There a Recovery Period or Any Downtime With QWO® Cellulite Treatment?
You can return to work or your normal routine immediately after each treatment session.
Some bruising is still to be expected, and you shouldn't schedule a treatment too close to any event that involves wearing a swimsuit.
The complete treatment course can last from 65 to 90 days.
What Results Can You Expect From QWO® Cellulite Treatment?
You can expect to see significantly smoother buttocks when the results are assessed one month after your final visit.
How Much Does QWO® Cellulite Treatment Cost?
Costs for treatment with QWO® can vary depending on the severity of your cellulite and your location. A personal consultation is required for an exact quote.
QWO® Cellulite Treatment Consultations in Salem, OR
If you are struggling with cellulite and want to learn more about receiving QWO® cellulite treatment near Salem, Oregon, call Dr. Yonker and Oregon Plastic Surgeons today at 503-561-7000.
Dr. Yonker is board-certified in plastic surgery and can create a treatment plan to help you with cellulite reduction. Our friendly and helpful staff is ready to answer your questions or schedule your consultation.